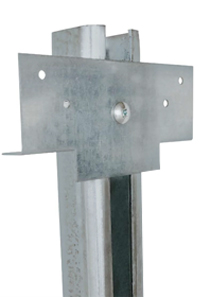 Combining Gregory's C-Post and our uniquely designed metal brackets, you get the beauty of wood with the strength and durability of steel. Each bracket is made from 18-gauge pressed steel and designed to adjust vertically or horizontally to most any terrain.

By choosing our C-Post—the best metal post for wood fences—and metal brackets for a wood fence system, you can eliminate customer complaints associated with warped, split or rotting post caused by wind or water damage.

For a wind load comparison against the other options, take a look at the chart below.
Wind Load Comparison Chart
"C" Posts, Gregory Fence's metal post for wood fences, provide greater protection against wind loads.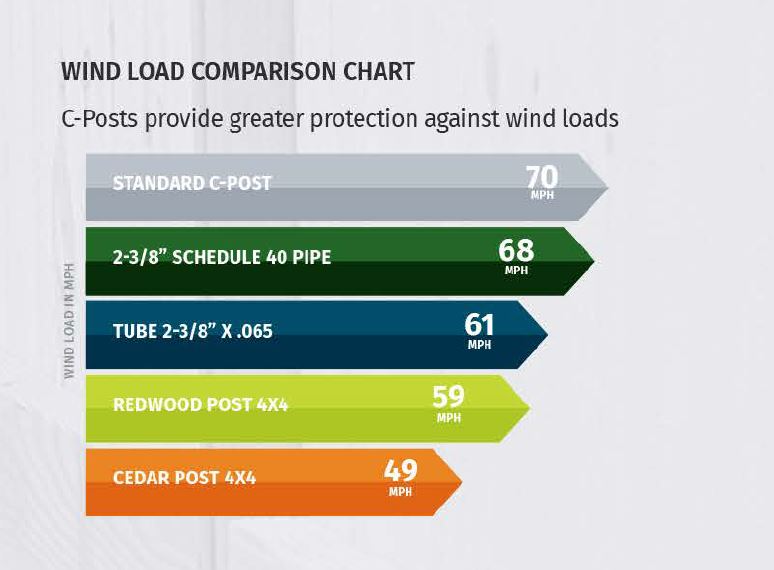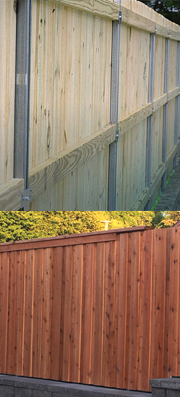 Installation Is As Easy as 1,2,3...
1. Set Posts and Install Brackets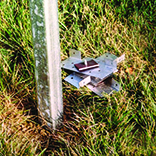 The C-Post (any size, including Super C for taller installations) is installed with the open channel facing out to accept the metal brackets. No drilling or welding is needed. Slide the bracket in place along the channel and tighten the bolt, locking the bracket in place. The unique design allows the bracket to adjust vertically and horizontally, allowing the fence to follow the slope of the terrain.
2. Install Wood Rails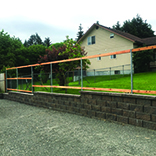 The great advantage our bracket and metal post for wood fence system has over all the others is that the 2 x 4 wood rails are butted up to the C-Posts when installed. Due to the wood 2 x 4 rails being the same thickness as the C-Post, you have a much easier installation—whether building a solid picket fence with all the fence boards on one side, or a shadow box design with the boards staggered on both sides.
3. Attach Fence Boards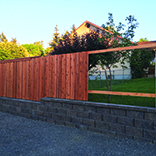 The C-Post and metal bracket system allows the bracket to be completely covered by the fence boards and, at the customer's option, the C-Post can be covered on the inside line of the fence by simply covering it with a fence board. This will give an all wood appearance on both sides of the fence, while supplying your customer with the strength and durability of steel.
Made in the USA
Our perimeter protection solutions will meet your most demanding security challenges. At Gregory Fence, we manufacture our fence products—from standalone fence posts to complete fence systems—using domestic steel and meet all Buy America requirements.




Partner with Gregory Fence
No matter your fence requirements, we have the capabilities to meet your needs. With fence posts, brackets and fittings stocked across the country, we're available with quick fencing solutions whenever project needs arise. Contact us today to get started on your next perimeter protection project.