Welded Wire Safety Fence System
When combined with our welded wire panels, Standard C and Heavy C post profiles provide superior strength, unique design and modern concepts compared to the competition. Each welded wire mesh panel is composed of 6-gauge wire in a 6-by-2-inch mesh style that can be galvanized or PVC coated.
Whether you need standalone safety fence posts or a complete industrial safety fence system, you're in good hands with Gregory Fence. We manufacture our fence products from domestic steel in Canton, Ohio, and meet all Buy America requirements.
Request a quote today for safety fence systems.
Safety Fence System Features
All panels can include V-bends to add rigidity and eliminate the need for horizontal bracing
Available in a galvanized or PVC coated finish
Available in heights of 4 ft., 6 ft. and 8 ft., which can be stacked or rotated
Panels can run continuously on the face of the post or end at each post, per job requirements
Even if cut, welded wire mesh panels will not unravel or lose structural integrity
System can utilize the Standard C or Heavy C post profile
Multiple options are available to attach post to panels
Systems meet or exceed ASTM specification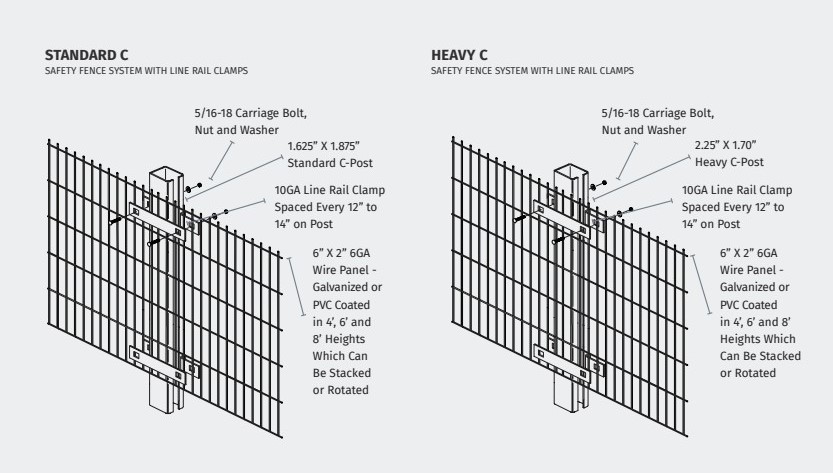 Welded Wire Safety Fence Specifications
Standard C and Heavy C posts are made with .121 wall thickness and utilize 50,000 lb. minimum yield steel
Continuously coated with 4 oz. of zinc per square ft., per ASTM-F1043
Each galvanized panel is 96 in. wide and each PVC coated panel is 87 in. wide
Welded wire mesh panels are composed of 6-gauge wire
Mesh spacing is 6 in. (vertical) by 2 in. (horizontal) center to center of wires before coatings are applied
Other panel mesh sizes are available upon request
C-Post Strength Comparison
Line Posts
Outside Dimensions
Material Thickness
Weight Per / Ft.
Section Modules*
Min Yield Strength
Beam Load**

Super C

2.5" O.D. SCH 40

1.875" x 1.625"

2.375"

.121

.154

2.4

3.65

0.395

.5606

50,000

30,000

274

234

Heavy C

2.5" O.D. SCH 40

2.25" x 1.70"

2.375"

.121

.154

2.78

3.65

.506

.5606

50,000

30,000

351

234
*Critical Axis Perpendicular to fence line
**Theoretical beam loads were computed as follows: Yield Strength X section modulus divided by the height in inches (cantilever beam load 72")
Oyuncular BetAndreas'ı şirketin kusursuz itibarı, geniş oyun yelpazesi ve mükemmel bonus sistemi gibi birçok nedenden dolayı seçmektedir. BetAndreas güvenilir bir casinodur, bu nedenle hizmetin adilliği konusunda endişelenmenize gerek yoktur.
betandreas tr
Seçilen sonuçlar hemen sayfanın sağ tarafındaki kuponda görüntülenir.
Made in the USA
Our perimeter protection solutions will meet your most demanding security challenges. At Gregory Fence, we manufacture our fence products—from standalone fence posts to complete fence systems—using domestic steel and meet all Buy America requirements.




Partner with Gregory Fence
No matter your fence requirements, we have the capabilities to meet your needs. With fence posts, brackets and fittings stocked across the country, we're available with quick fencing solutions whenever project needs arise. Contact us today to get started on your next perimeter protection project.