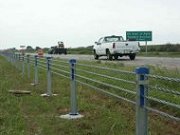 SAFENCE® makes cable (wire rope) installation easy. Installation crews lay each course of cable into the C-post slot by hand. Dividers assure the correct distance is maintained between cables. Cable ends are inserted into end fittings and secured to end anchors and turnbuckles. Once secured, cables are tensioned to specification.
Cables are laid into the C-posts one level at a time.
Plastic spacers are positioned between cables to hold precise horizontal alignment.
A stainless steel Stiffening Loop is positioned over the post above the first two cables.
The C-post Hook is inserted into the C-post above the top cable.
Once anchored, cable ends are connected to turnbuckles and tensioned to specification.
Plastic caps complete the installation.