MSKT Guardrail Terminal – MASH Sequential Kinking Terminal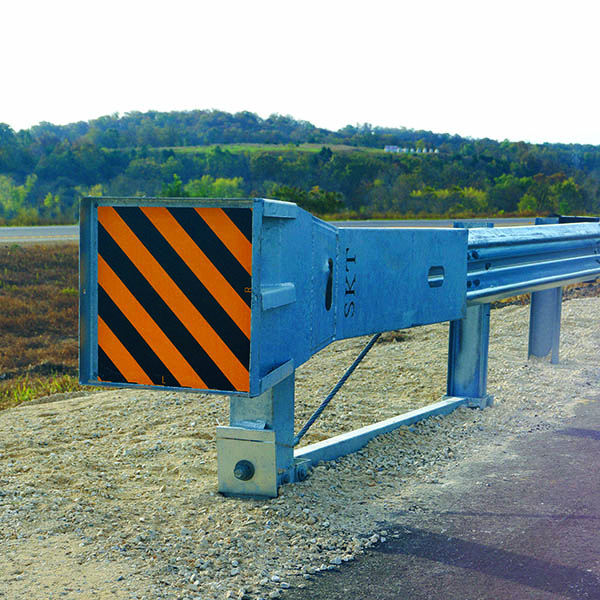 The MASH Sequential Kinking Terminal (MSKT) is an energy-absorbing tangent guardrail terminal that is MASH TL-2 and TL-3 compliant.
During head-on impacts, the MSKT guardrail terminal head slides over the
W-Beam guardrail
, sequentially kinking it. The kinked rail exits the head, and the vehicle comes to a controlled stop, using the same effective technology seen in NCHRP 350 SKT field performance. When impacted along the side within the length of need, the MSKT functions like a guardrail, containing and safely redirecting vehicles.
MSKT features an impact head that can be used on existing sequential kinking terminal (SKT) systems for maintenance repairs. This interchangeability allows you to save on inventory costs. Only minimal components need to be inventoried for continual maintenance purposes and new MASH guardrail installations.
Our highway road safety barriers are strong, long-lasting, and easy to install. And when you partner with Gregory Highway—the national leader in
highway guardrails
and roadside safety—you will always get a quick turnaround and responsive service.
Find a Sales Rep
MSKT Guardrail Terminal Features
MASH TL-2 and TL-3 compliant
Utilizes the same field-proven sequential kinking technology used in the NCHRP 350 SKT
Energy-absorbing tangent terminal uses proven sequential kinking technology
Improved impact head and anchorage system
Length of need point at post 3 is 12'6" downstream
Easy installation; familiar for work crews
The same footprint as NCHRP 350 SKT

Product Specifications
50 ft. long with 8 posts spaced at 6'3" centers
Use with rail heights of 30 to 32 inches
25:1 optional flare rate
8" or 12" blocks
AASHTO Specifications
Our guardrail is manufactured to AASHTO specifications in M180 Class A or B, and finish types 1, 2, 3, or 4. Every piece of Gregory Highway guardrail is stamped with a brand registration that is repeated throughout the entire length of the rail.
Gregory Stamping Code:
Manufacturer: GH=Gregory highway
AASHTO Specifications
Mill Heat Number Code
Galvanized Lot

01 = Week (1st week)
23 = Year (2023)

Class

Class A = 12 gauge 0.105in (2.67mm)
Class B = 10 gauge 0.135in (3.43mm)

Type

Type 1 = Zinc coated 1.8 oz/sq. ft. (550 g/sq. m.) minimum single spot
Type 2 = Zinc coated 3.6 oz/sq. ft. (1,100 g/sq. m.) minimum single spot
Type 3 = Uncoated Steel
Type 4 = Weathering Steel
PARTNER WITH GREGORY HIGHWAY
When you need complete solutions that are strong, long-lasting, and easy to install, you need to partner with Gregory Highway. As the national leader in highway guardrails and roadside safety, you can rely on us for quick turnarounds, competitive pricing, and responsive service. And we're proud to say our steel guardrail and highway products are manufactured in the heart of the U.S. Contact us today to get started on your next highway safety project.