Gregory Guardrail and Highway Safety Product Resources
Explore our industry-leading highway solutions
Review our highway resources to learn more about our galvanized highway guardrails, end treatments, cable barrier systems and more. It is our mission to answer your questions, solve your problems and support your business needs any way we can. Don't hesitate to contact the Gregory Highway team if you want to know more about our people, products processes or how we can help.
Gregory Highway Safety Products Catalog
Download

Manufacturer (GH = Gregory Highway)
AASHTO Specifications
Class: Class A = 12 ga, Class B = 10 ga
Type:

Type 1 = Zinc coated 1.8 oz/ft2 (550 g/m2) min single spot
Type 2 = Zinc coated 3.6 oz/ft2 (1100 g/m2) min single spot
Type 3 = Uncoated Steel
Type 4 = Weathering Steel

Mill Heat Number
Operator identification (A-Z)
Galvanized Lot: 09 = Week (9th week), 17 = Year (2017)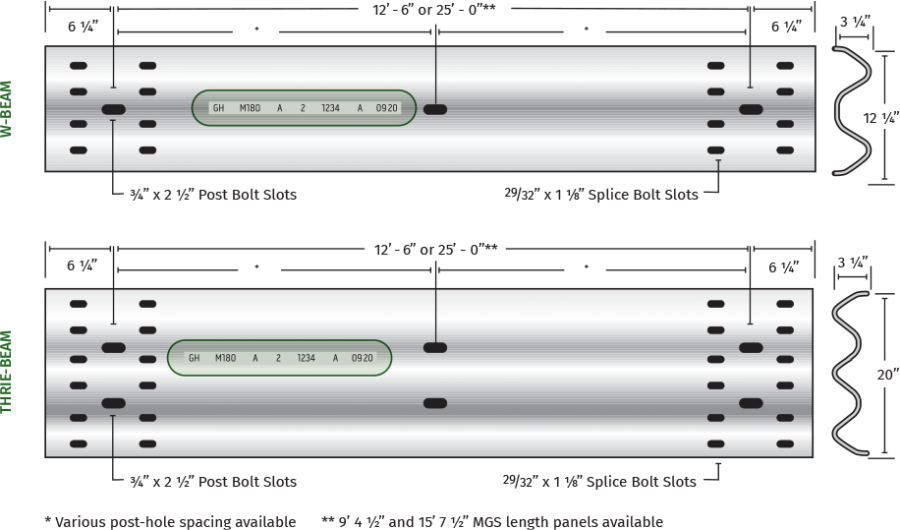 Click image to enlarge
Convex and Concave Curved Guardrail Panels
Convex and Concave Guardrail
Guardrail sections to be installed on curves with a radius of 5 ft. to 150 ft. can be curved in our fabricating facilities. Terms convex or concave refer to the inward or outward curve relative to the traffic face of the guardrail.

Click image to enlarge
Finding the radius for a curved guardrail:
Step 1
Starting at the last post in the straight run (point A), lay cloth tape along the path that the curved guardrail will follow.
Step 2
Mark off two points along the curved cloth tape: one at 6 ft. 3 in. (point B), and the second at 12 ft. 6 in. (point C).
Step 3
Pull string directly from starting point (point A) to the second mark-off point (point C).
Step 4
Measure from the first markoff point (point B) over to the midpoint of the taut string. This measurement (D) is the rise.
Step 5
Check the chart to find the radius (R), given the rise (D). Example: a rise of 3 1/8 in. would result in a radius of 60 ft.
| RADII | ANGLE | CHORD | HEIGHT / RISE |
| --- | --- | --- | --- |
| 5 | 143˚ 14' | 9' 5-7/8" | 3' 5" |
| 10 | 71˚ 37' | 11' 8-3/8" | 1' 10-3/4" |
| 15 | 47˚ 45' | 12' 1-3/4" | 1' 3-3/8" |
| 20 | 35˚ 49' | 12' 3-5/8" | 11-5/8" |
| 25 | 28˚ 39' | 12' 4-1/2" | 9-3/8" |
| 30 | 23˚ 52' | 12' 4-7/8" | 7-3/4" |
| 35 | 20˚ 28' | 12' 5-1/8" | 6-5/8" |
| 40 | 17˚ 53' | 12' 5-3/8" | 5-7/8" |
| 45 | 15˚ 55' | 12' 5-1/2" | 5-1/4" |
| 50 | 14˚ 19' | 12' 5-5/8" | 4-5/8" |
| 55 | 13˚ 01' | 12' 5-5/8" | 4-1/4" |
| 60 | 11˚ 56' | 12' 5-3/4" | 3-7/8" |
| 65 | 11˚ 01' | 12' 5-3/4" | 3-5/8" |
| 70 | 10˚ 14' | 12' 5-3/4" | 3-3/8" |
| 75 | 9˚ 33' | 12' 5-3/4" | 3-1/8" |
| 80 | 8˚ 57' | 12' 5-7/8" | 3" |
| 85 | 8˚ 26' | 12' 5-7/8" | 2-3/4" |
| 90 | 7˚ 58' | 12' 5-7/8" | 2-5/8" |
| 95 | 7˚ 32' | 12' 5-7/8" | 2-1/2" |
| 100 | 7˚ 10' | 12' 5-7/8" | 2-3/8" |
| 110 | 6˚ 31' | 12' 5-7/8" | 2-1/8" |
| 120 | 5˚ 58' | 12' 6" | 2" |
| 130 | 5˚ 31' | 12' 6" | 1-3/4" |
| 140 | 5˚ 07' | 12' 6" | 1-5/8" |
| 150 | 4˚ 47' | 12' 6" | 1-1/2" |
Guardian 5 (G5)
MASH TL-5 Longitudinal Barrier
MFLEAT
MASH Flared Energy Absorbing Terminal
MFLEAT Installation Manual
MSKT
MASH Sequential Kinking Terminal
SAFENCE High Tension Cable Barrier
TTMA-200
Trailer Truck Mounted Attenuator
Safety Roller Barrier
MASH TL-4 Longitudinal Barrier