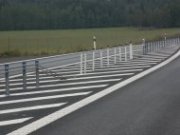 SAFENCE® cable barrier system works in horizontal tension. When terrain is concave, or when the radius of a curve is less than recommended, your Gregory sales representatives will help you specify the proper components for reliable installations.
SAFENCE® cable works in horizontal tension.
Arched terrain is an acceptable application since cables are always under tension.
Installations with horizontal radii of less than 325 feet are not recommended.
Contact your Gregory representative for complete details and recommendations.