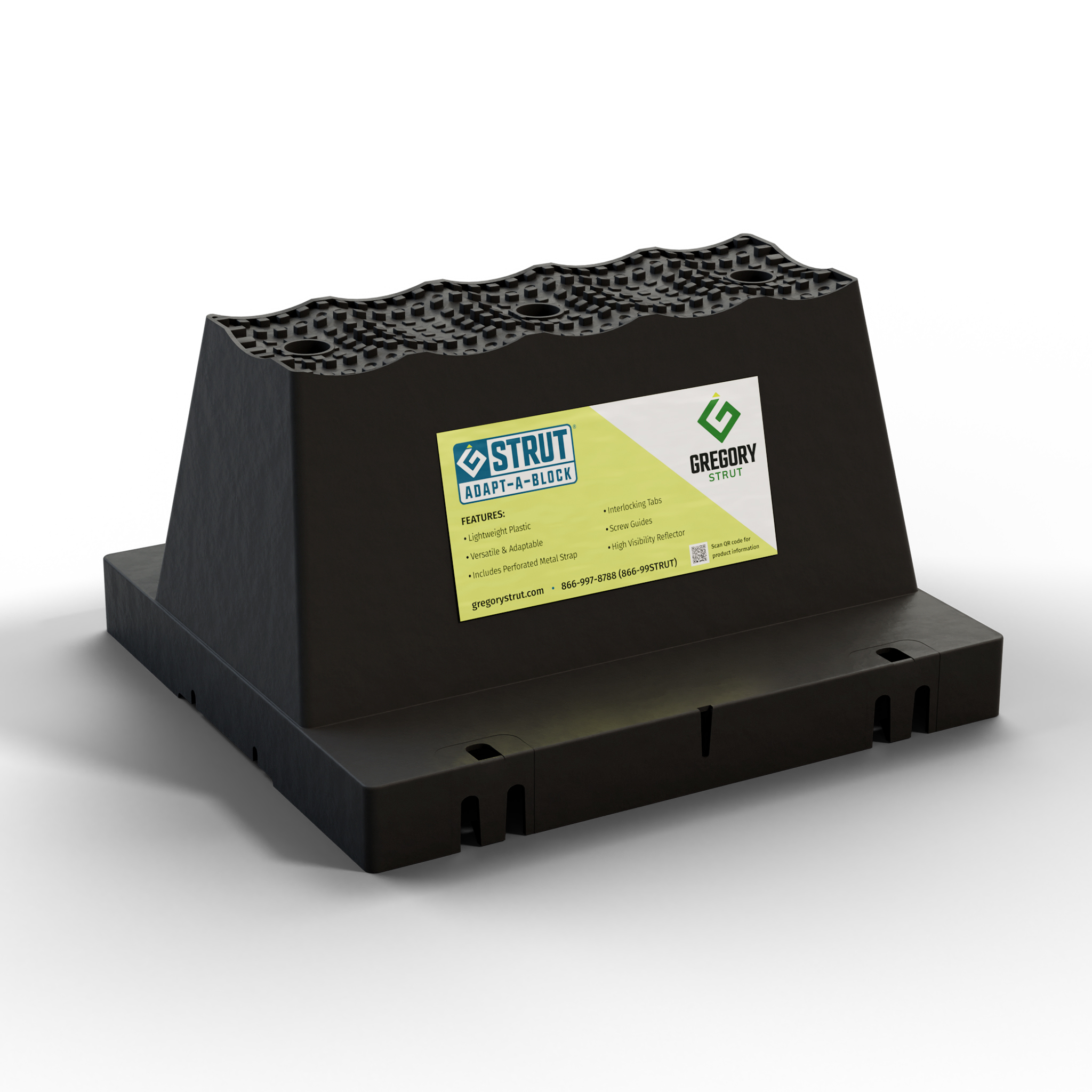 GAB1 Adapt-A-Block
Plastic Rooftop Block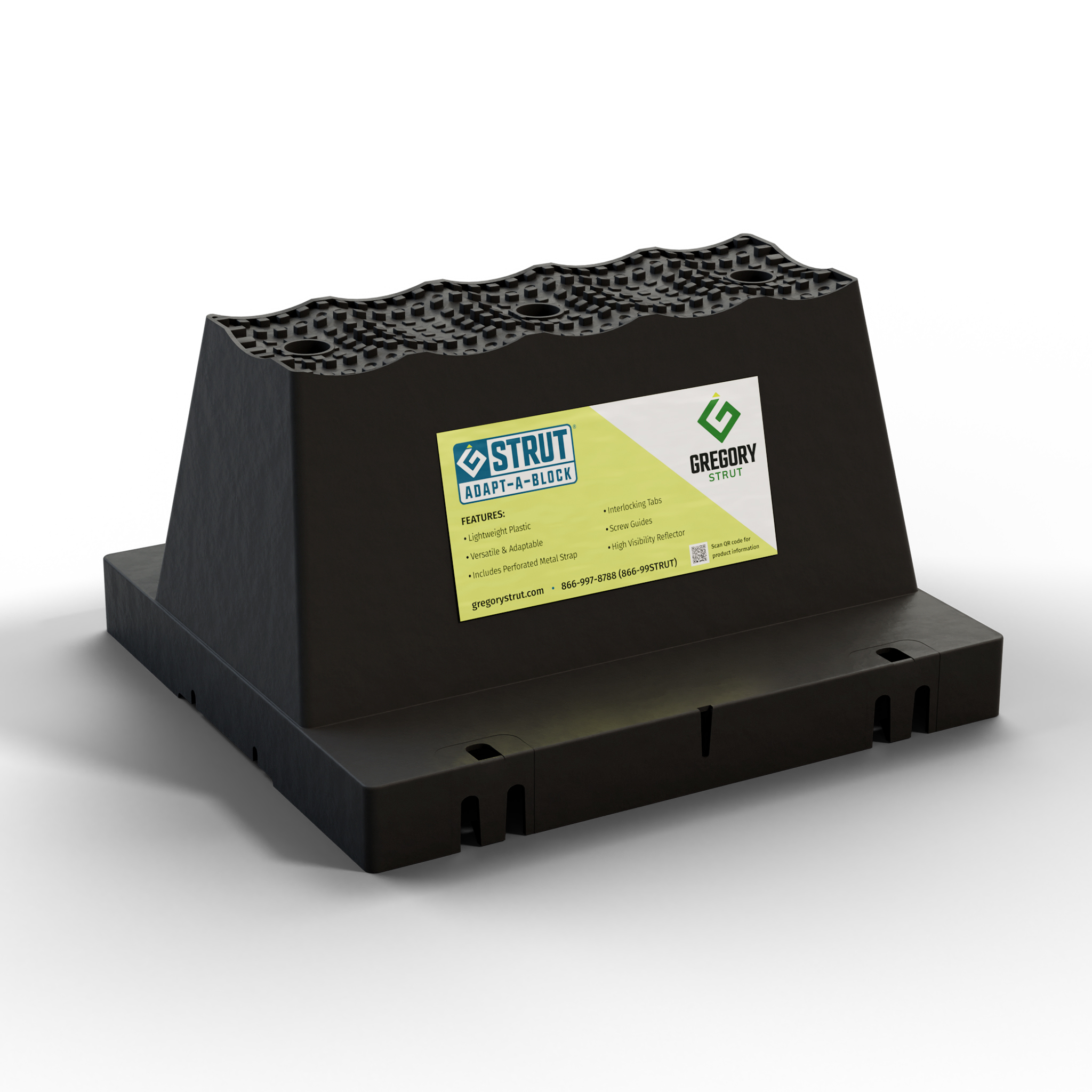 Adapt-A-Block gives you flexible options with the dependable support you expect from G-STRUT®. It's easy to install, stabilize and align, offering a lightweight option in rooftop support blocks.
Request a Quote
For a custom order or hard-to-find part, please request it through our contact form.
Contact Us
Product Details
Adapt-A-Block Benefits
The GAB1 plastic rooftop block from G-STRUT® provides a single block or interlocking, multiple base system for roof block variations to accommodate heavier applications and high-wind locations. Pipe grooves facilitate alignment and stabilize the conduit and pipes, while a self-locking nut feature allows quick installation.
Easy storage with stackable design

Even weight distribution for greater load-bearing capacity once strut is attached

Water drainage through sloped edges and bases

Easy to assemble the nut to fastening rods or bolts

Numbered pipe grooves align for organizing pipes

Quick clamp to 2" pipe with perforated metal strap or universal strut

½" diameter holes with self-locking nut to accept extension rods, rise clamps and struts

Blocks interlock to connect in a series; many options for pipes to be secured to a series
Strut Attachment
Easily attach G-STRUT® channel directly to Adapt-A-Block with sheet metal screws and washers. For heavier applications, use ½" bolts.
Self-locking nut feature for quick installation

Use the included perforated metal strap to secure the pipes

Use numbered pipe grooves to align quickly and easily

Screw both ends of the metal strap using sheet metal screws and following the included screw guides
Riser Rods Adapt-A-Block can be used with up to 12" riser rods, placed in any combination of the three ½" diameter holes. Once attached, riser rods can be adjusted from 8.5" to 10.5".
Riser rods elevate any type of G-STRUT® channel

Self-locking and reinforced nut-shaped void holds the nut for attachment to the riser rods
GAB1 Adapt-A-Block
Base length: 8"

Base width: 7.5"

Height: 5"

Materials:

Lightweight plastic shell with Styrofoam base

Weight: 0.80 lbs.

Static load capacity: 250 lbs. (without strut)

Ordering: Packable and Stackable for easy storage and transport.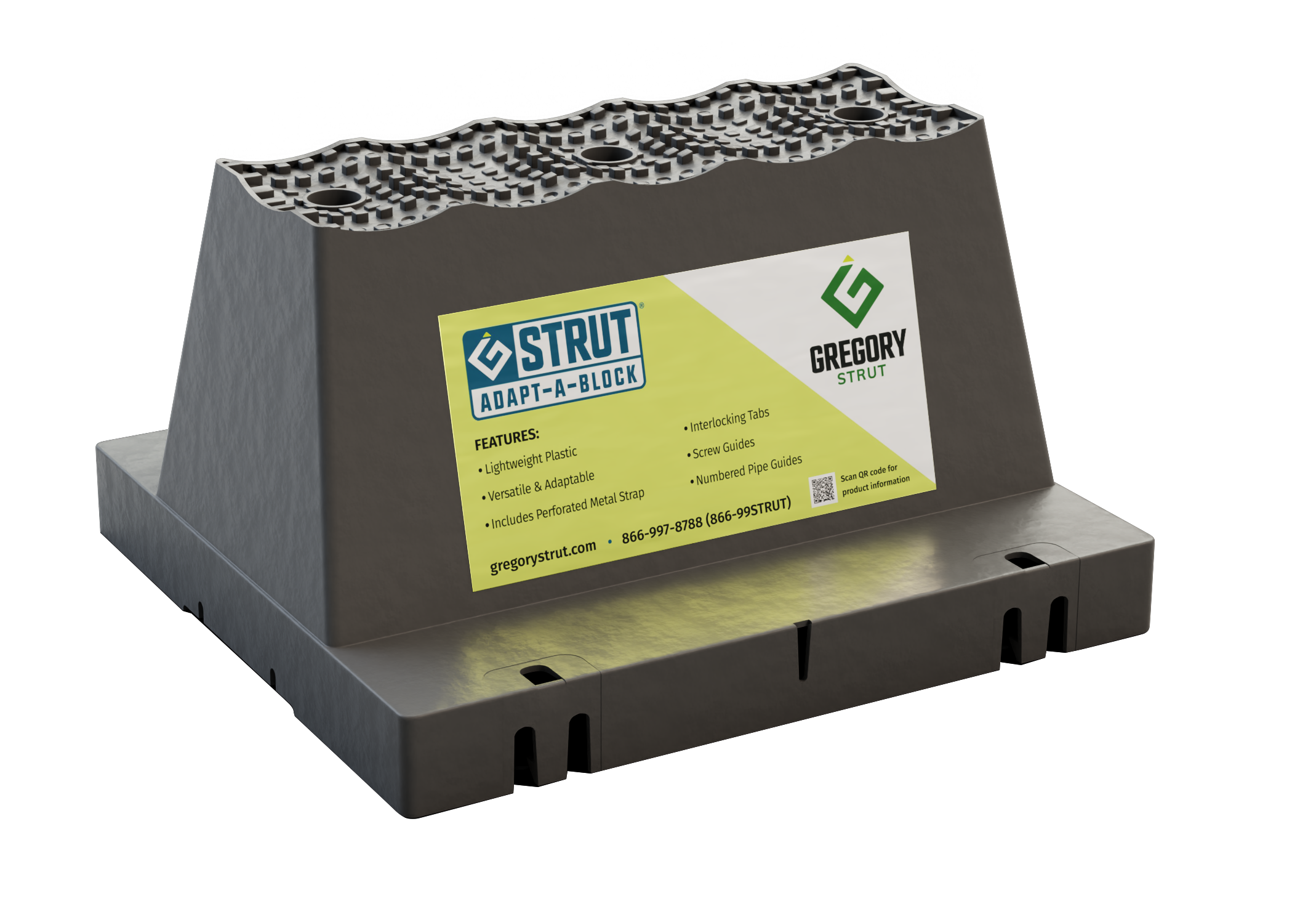 Group Affiliations