G-FORCE® Pipe Hangers & Supports
Support your commercial and industrial hanging systems with G-FORCE®, a leading line of metal framing products, brought to you by Gregory Strut. Designed for application versatility and lasting performance, you can count on G-FORCE® Pipe Hangers & Supports to integrate seamlessly into your mechanical, plumbing, HVAC or fire protection system.
Navigate to product resources

Shop G-FORCE®
Shop our product categories to find the parts you need for your commercial hanging applications. When combined with G-STRUT® Channel, G-FORCE® is up to the challenge.
Finishes
From pre-galvanized to stainless steel, G-STRUT® products can be customized in nearly any metal finish.
Powder Coat or Electrodeposition (Green)
Yellow Zinc Dichomate (Gold)

G-FORCE® Hanger Part Numbering System
Available Finish Codes
0 – Stainless Steel (316)
1 – Plain – Steel
2 – Electro-Galvanized
3 – Copper
4 – Pre-Galvanized
5 – PVC Coated
6 – Yellow Chromeate Galvanized
7 – Fiberglass
8 – Stainless Steel (304)
9 – Hot-Dipped Galvanized
10 – Copper Finish with PVC Coating
11 – Prime Painted
12 – Pre-Galvanized with Felt
13 – Plain with Felt
14 – Electro-Galvanized with Felt
15 – Electro-Galvanized with PVC
Examples
W227103
or Centered Load Beam Clamp, Plain 3/8" rod size
W227
SERIES NUMBER (found on each page)
W530524
or Iron Pipe Riser Clamp. PVC Coated, 2 1/2" pipe size
W530
SERIES NUMBER (found on each page)
Industries Served
G-STRUT® products are designed to solve virtually any commercial or industrial hanging challenge.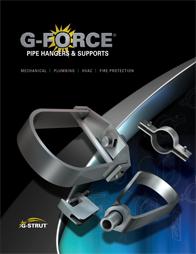 Explore our G-FORCE® Catalog
View our catalog to see the complete line of G-FORCE® products, finishes, configurations and specifications. Ready to Partner with Us?
Contact our Vice President of Gregory Strut, Bob Porter, to discuss your goals and project requirements today.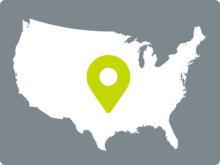 Find your G-FORCE®
If you would like to purchase G-FORCE® Pipe Hangers & Supports, reach out to one of our trusted sales reps to get started.