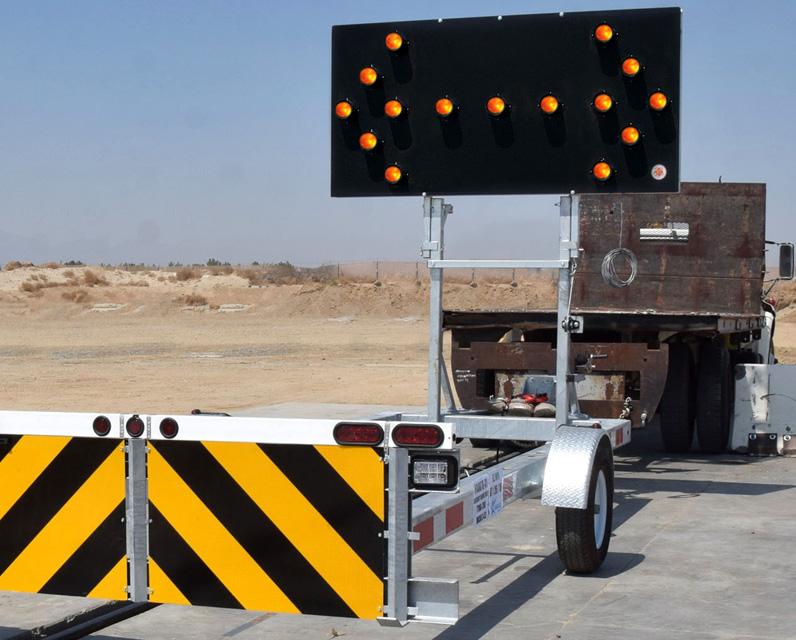 Gregory TTMA-200 Trailer Passes MASH TL-3 Crash Testing
CANTON, OHIO, April 2, 2019 — Gregory Highway Products has announced that its TTMA-200 Trailer Attenuator has passed the Test Level 3 (TL-3) crash safety standards set forth in the American Association of State Highway and Transportation Officials' (AASHTO) Manual for Assessing Safety Hardware (MASH 2016).
The TTMA-200 is now eligible for reimbursement under the Federal-aid Highway Program, administered by the Federal Highway Administration. The TTMA-200 was assigned control number CC-152. This letter of eligibility will support Gregory in its efforts to work with the various State Departments of Transportation throughout the country to provide a low-cost solution for work zone protection.  
Designed for use in mobile and stationary work zones, the TTMA-200 is one of the most versatile attenuator trailers on the market. Thanks to its hitch-mounted design, the trailer can be placed into service in minutes by attaching to most support vehicles with no modifications.
"The device's patented energy-absorbing technology makes the TTMA-200 a safe, affordable solution to improve roadside and work zone safety," said Jeff Grover, vice president of highway products at Gregory. "The simplified design offers contractors a means to protect employees while minimizing the expenses of investing in new equipment and still meeting AASHTO's stringent MASH TL-3 testing criteria."
The trailer absorbs energy through the use of an oversized mandrel which pushes into a smaller tube in the event of a crash. This design dissipates energy by splitting the tube into four strips of metal on impact. These strips remain with the trailer and pose no hazard to workers or adjacent traffic.
The TTMA-200 is fully galvanized and built to last against moisture and corrosion. Since it does not require a dedicated support vehicle, the trailer is adaptable to a wide range of operations such as sweeping, salting, sanding, mowing and striping.
Click here for more information about Gregory Highway Products' TTMA-200, including detailed product specifications. 
About Gregory Highway Products – a division of Gregory Industries, Inc.
State of the art manufacturing and galvanizing technology combined with superior customer service makes Gregory Industries the first choice for highway safety products. Family owned and operated for five generations, Gregory has more than 100 years of expertise in galvanizing, metal processing and roll-forming. To learn more, contact a member of our team.